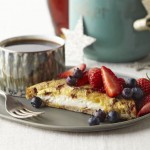 Cliquez pour agrandir
Printable version
Printable version with picture
Source :
Kraft
Ingredients
8 slices cinnamon-raisin bread
1 cup Philadelphia Light Cream Cheese Product
3 Tbsp. sugar
4 eggs
1/2 cup milk
2 cups sliced strawberries
1 cup blueberries
Preparation
Mix cream cheese product and sugar until blended; spread onto bread. Place 4 bread slices, cream cheese-sides up, in 8-inch square baking dish sprayed with cooking spray. Cover with remaining bread slices, cream cheese-sides down.
Whisk eggs and milk until blended; pour over bread. Refrigerate overnight.
Heat oven to 350ºF. Bake French toast, uncovered, 30 to 35 min. or until centre is set and top is lightly browned. Serve topped with fruit.
Comments
Prep Time: 15min.
Total Time: 24hr. 50min.
8 servings, 1/8th recipe (147 g) each
What's the best part of our Overnight Stuffed French Toast? Is it that we stuffed the cinnamon-raisin bread with cream cheese? Or that this breakfast favourite can be made the night before? Either way, this French toast recipe is a must-try!